The country of Poussard is a tiny soil of the Vendômois Pole, in the canton of Mondoubleau. It draws its originality from the use, in the built inheritance, of a material little running: ferrugineous sandstone.
On the clay-with-flints plates which surround Mondoubleau, no stone of size was available. The ferruginous sandstone present in the outcrops of sands of the Pole largely was thus used. But its use was limited to a small sector of 10 km out of 15 close relation of the places of extraction located on the communes of Cormenon and Sargé-sur-Braye.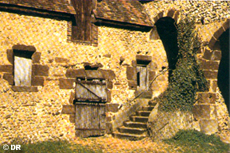 To make knowledge with this soil, Natural Perche proposes to you to traverse the exposure" To the country of Ferrugineous" visible in the Saint Martin's day church of Sargé-on-Sling. In 23 panels, it presents all the facets of the ferrugineous one: rural architecture and religious, castles and manors, bridges, geological origin, flora… It grows rich by the presentation of many elements into ferrugineous cut: pavings, troughs, stone of sink, thresholds, sarcophagi… Then, the marked out circuit will lead you in all the places where the ferrugineous one left its print..